Program Overview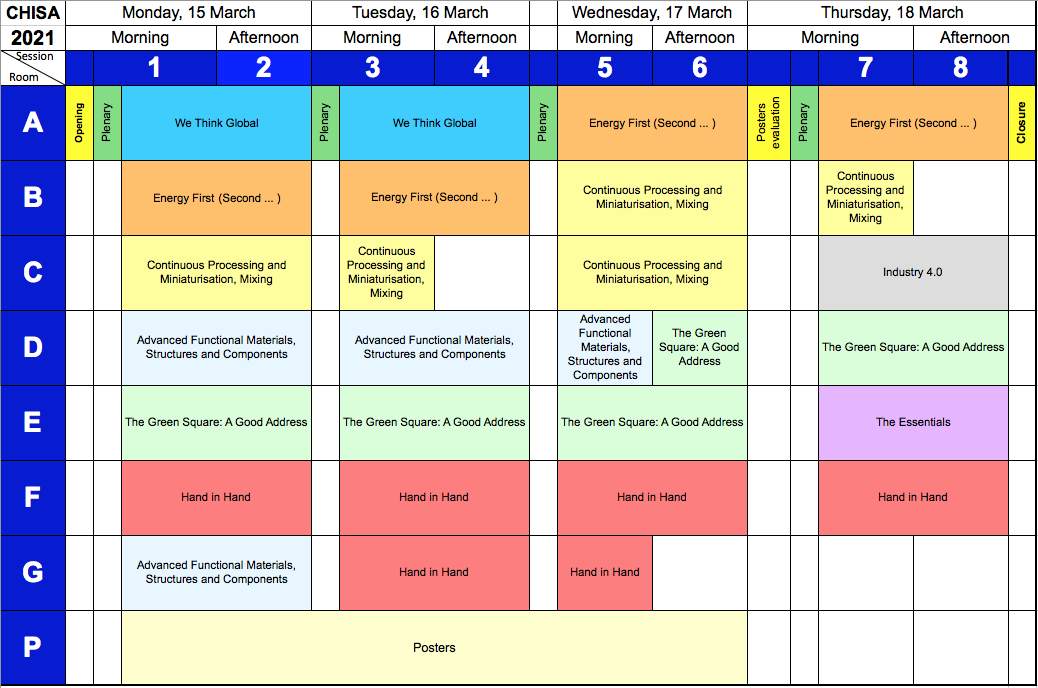 Plenary lectures start at 9:00 (on Mon at 10:00, on Thu at 9:20), morning lectures start at 10:00 (on Mon at 11:00, on Thu at 10:20), afternoon lectures start at 14:00 (on Mon at 14:30).
Lunch breaks: Mon at 13:00-14:30, Tue+Wed at 12:00-14:00, Thu at 12:20-14:00.
Posters P1: Monday - Wednesday.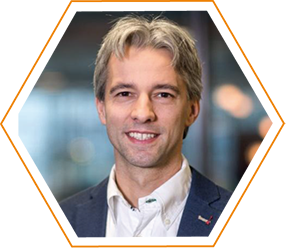 Timothy Noël
(University of Amsterdam, NL)
Innovation in catalysis through use of microreactor technology
(50 min)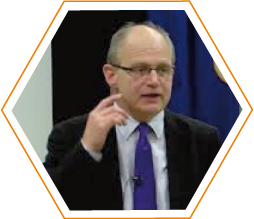 David Bogle
(University College London, UK)
A role for chemical engineers in systems approaches to physiology and clinical medicine
(50 min)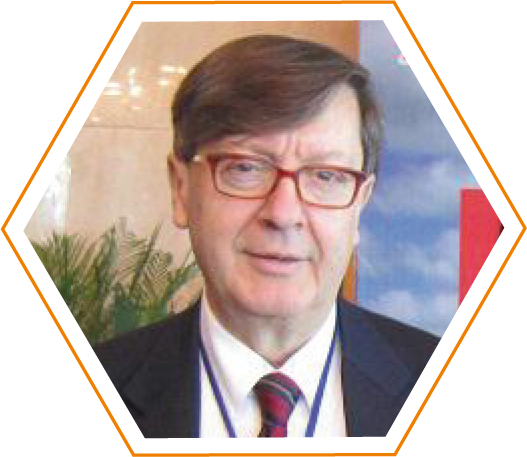 Enrico Drioli
(ITM-CNR at University of Calabria, Rende, IT)
Membrane engineering for a sustainable industrial growth, today and tomorrow
(40 min)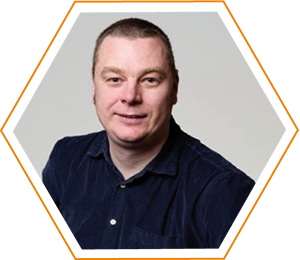 Edwin Zondervan
(University of Twente, Enschede, NL)
Processes and products: Two to tangle!
(50 min)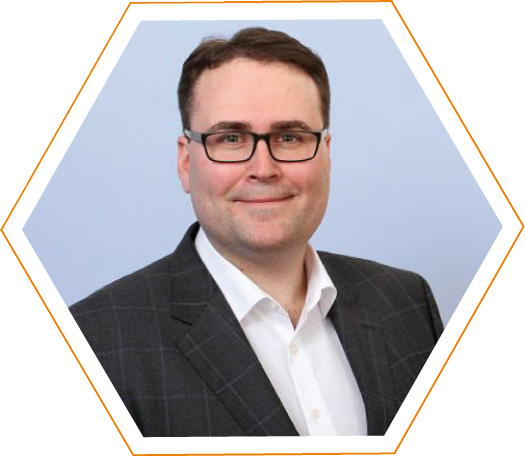 Julian Thiele
(Leibniz Institute of Polymer Research Dresden, DE)
Miniaturized polymer materials as platforms for cell-free biosynthesis and cell biology
(50 min)
Keynote Lectures and Lectures (KL, L - 20 min) in sections
Accepted oral presentations will be listed by 15 February 2021.
Lectures discussions will be held as chat during the session Zoom meeting or during the 30 minutes period after every particular session.
Accepted poster presentations (P) will be listed by 15 February 2021.  Only contributions received before 15 January 2021 will be included in the final program.
Posters will be evaluated by the visitors, evaluation is based on points: 1,2 or 3 - the higher score, the better. Posters will be displayed from Monday 15 March till Wednesday 17 March.
There are eight sections covering the main conference topics. The ninth is the Wiley – VCH Poster Session.
Section

1



We Think Global
Low to zero emission technologies
Carbon dioxide economy – a never complete story?
Water – supply, management, reuse, purification, hygiene
Food in the focus
Sustainability as a starting point – a roadmap to higher standards
Section 2
Energy First (Second 🙂 ... )
Energy to carbon footprint ratio – the drivers for making it invalid
Low energy cost processes
Renewable energy and energy storage, hydrogen as a fuel
Energy self-sufficiency
Clean energy – not the produced/used one!
Photochemistry, photocatalysis, electrochemistry and photoelectrochemistry, solar cells and solar powered technologies, fuel cells
Section 3
Continuous Processing and Miniaturisation, Mixing
Continuous process design and optimization (batch to continuous, flow chemistry)
Process intensification and miniaturisation
Fluid flow and microfluidics, multiphase flow
Microreactors for real-life products and scaled-up technologies
Mixing – It is always counted!
Section 4
Industry 4.0
The digitalized Planet – The place where chemical engineering will matter.
Dynamic and modular operations in the digitalized industry – the way to flexible production
4.0 Digi systems modulations and automation
New stories on 4.0 Pharma and fine chemicals industry
Visit the Smart Plant
Section 5
Advanced Functional Materials, Structures and Components
The DPIU technology schemes – Designed, Printed, Integrated, Used
Particulate and microporous solids, low-risk advanced materials
When Nature inspires – not only the biomimetic.
Catalysis and catalysts – by far not a tradition
Functional films and nanostructures, sensors and sensing nano-objects, hierarchical nanoparticles
Polymers and polymer technologies, conductive polymers
Section 6
The Green Square: A Good Address
No wastes technologies and zero waste plants – illusions?
Production-trade-customer zero waste chains – philosophy approach vs. practical steps to achieve it
Urban mining, waste management
Microplastics and endocrine disruptors
Biotechnologies and their environment friendly/unfriendly face, biomass and biomass processing
Membrane processes
Air, soil and water pollution, pollution control
Green and supercritical chemistry
Section 7
The Essentials
Educated chemical engineers – Human robots are not needed!
What are the new opportunities for students and young researchers in chemical engineering?
What and where to publish? Ways to make your science visible.
We may start with high school students already – Chemistry Olympic Games.
Chemical engineering and safety, prevention and loss control, elimination of health and environmental hazards
Section 8
Hand in Hand
Chemical reactors and reaction kinetics, transport phenomena
Distillation, extraction, SCF extraction, S-L separation, crystallisation
Thermodynamics, phase equilibria, multiphase processes
Chemical engineering computations and modelling, molecular dynamics, ab-initio calculations, mathematical predictions, neural networks
New and improved technologies
Authors not intending to submit a paper to the Congress special issue journal, or the authors whose contribution is not accepted for publication, are free to publish their papers at will after the congress. No congress proceedings (except congress special issue - see below)  will be available.
CHISA VIRTUALLY offers to selected presenters publishing their contributions as full papers in a special issue of Chemical Engineering and Technology Impact factor: 2.418, ISI Journal Citation Reports © Ranking: 2018:58/138 (Engineering, Chemical), Online ISSN: 1521-4125 © WILEY-VCH Verlag GmbH & Co. KGaA, Weinheim.
Upon the submission, the CHISA authors will be asked to express their intention to submit a contribution as an article to the special issue. It is expected that presenters of about 100 CHISA lectures and posters will be approached after the Congress closure (before 31 March 2021) with the pre-nomination appeal. The gate for submissions of manuscripts will be open since 1 April 2021 for the next five weeks. About 35 outstanding papers will be then selected from pre-nominations on the basis of the standard peer review process. Editor of this special issue will be B. Böck (Editor-in-chief, DE) together with L. Obalová (Guest Editor, CZ).
Examples of the 2016 and 2018 CET/CHISA special issues can be found on
https://onlinelibrary.wiley.com/toc/15214125/40/5 and
https://onlinelibrary.wiley.com/toc/15214125/42/4, respectively.